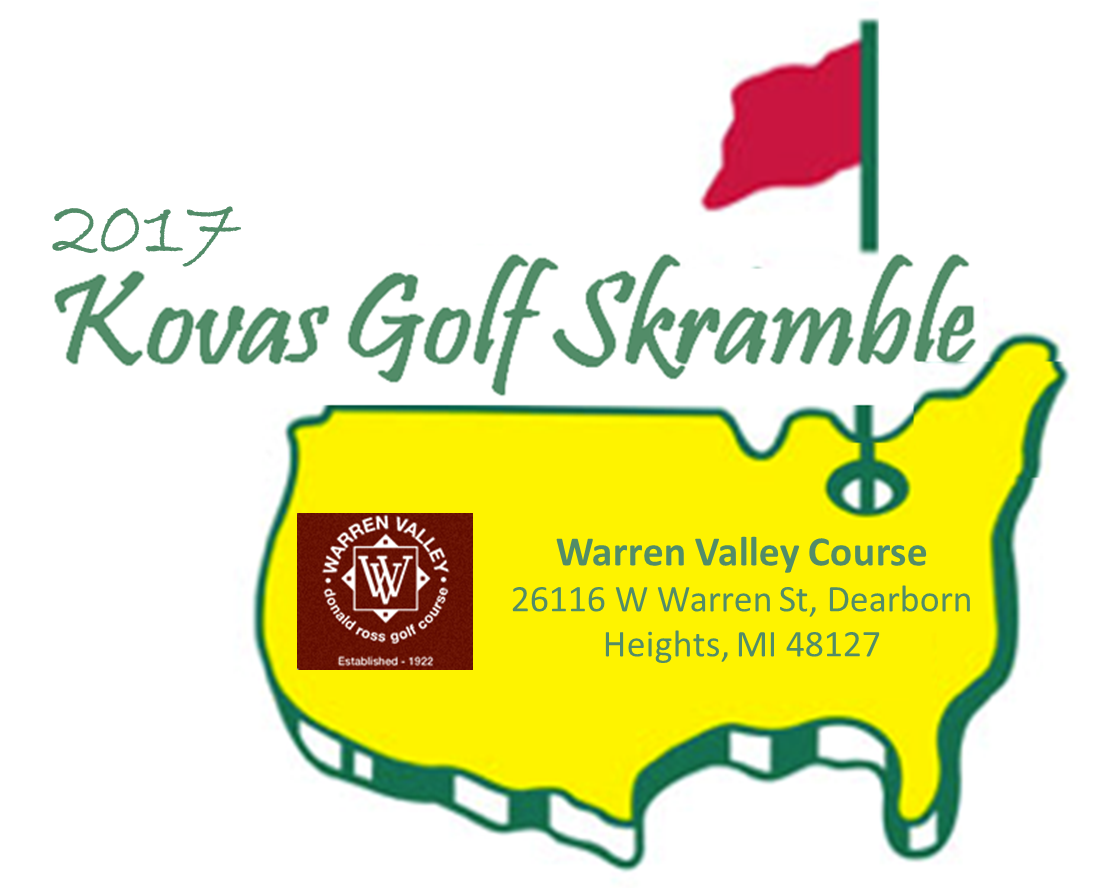 Golfo klubas "Kovas" kviečia visus sporto mėgėjus prisijungti ir aktyviai dalyvauti.
Detroit Kovas invites all friends to join us in our 8th annual Kovas Golf Scramble.


Dalyviai - Who's Invited?
Kovo Klubo Draugai – You are! (Friends of the Kovas Sports Club)


Taisyklės - Rules
Visos rungtynės vyks remiantis golfo taisyklėmis, patvirtintomis "Royal & Ancient Golf Club of St. Andrews" bei Amerikos Golfo Turo taisyklėmis, nustatytomis teisėjų komiteto. 
The tournament will follow the rules established by the "Royal & Ancient Golf Club of St. Andrews". Any discrepancies will be ruled over by the judging committee.


Formatas - Format
Turnyras vyks 18 duobučių golfo lauke. Pagrindinis Golfo turnyro formatas bus žaidžiamas remiantis "Scramble" sistema. 
The tournament will follow an 18 hole scramble – best ball format.


Mokestis - Cost
Golfo lauko žaidimo mokestis "green fee", Vakariene po turnyro "open beer and wine" nuo 6-8. $70 USD ($80 po Rugsejo 9d) 
Early Registration $70 ($80 After September 9th)...includes Green Fees, Cart, Dinner, and beer and wine from 6-8pm
Studentams $50 - Students $50


Vieta - Where:
Warren Valley Golfo Klubas,
26116 W Warren Road
Dearborn Heights, MI 48127
313-561-1040

Laikas - Time
Turnyras prasidės 2017 Rugsėjo 16d. 13:00 val., dalyviams startuojant "shotgun".
Shotgun start September 16th 1:00 pm
Please arrive by 12:30pm for check in.
 
Apdovanojimai - Prizes
-  Stroke "SCRAMBLE" sistema, 
-  "Geriausia komanda" – Best Team
-  "Blogiausia komanda" – Worst Team
-  "Longest drive"
-  "Shortest to the pin"


Registration:
Payment: